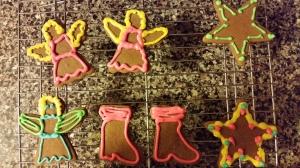 Although my Christmas tree has been up and decorated for over a month, the busyness of the season has kept me preoccupied and in seeming perpetual motion–up until a couple of days ago. This celebratory weekend started off Friday with a favorite of my Christmas Traditions: an evening with a play and sing along of Handel's Messiah in exquisite Memorial Church at Stanford University. The grandeur of the historic church as melodic voices raised the unequaled notes of Handel's masterpiece.
Saturday, I finally settled on a recipe for the school potluck get together and went off to the grocery store. The funny thing is that I didn't realize a parent of a child I have taught checks at the grocery story where I sometimes shop. Much to my consternation, when I got to the checkstand I was greeted by name before I even provided any form of payment with my name on it. At that point I realized who was going to ring up my purchase. Knowing somebody there helps me feel more like I am part of a community and not just an insignificant digit after the decimal point on the population sign of the third most populated city in California.
Once I had the groceries, I just needed a mini muffin tin to make the Spanakopita Bites I had settled on for the potluck. I tried to pop into a couple of overcrowded stores with ridiculously long lines of customers waiting to check out, I decided I would improvise somehow. Since I have lived this long without ever needing mini muffin tins, I realized it would have been a frivolous purchase. Instead, I chose to go with  spanakopita cups made in regular-sized muffin tins and after my experience layering and buttering phyllo dough before adding the filling, I am certainly relieved I hadn't purchased mini muffin tins. I doubt I would have made it to the get together. It would have taken forever. As it was, I was just a half an hour after start time, but still well before about half of the other attendees. It was a fun evening of chatting and talking about our upcoming break.
After cleaning up the dishes remaining from making my holiday Spanakopita Bites, which seemed like it took forever, I made a midday meal, creating even more dishes.
I geared up to make a holiday dessert for another upcoming get together. As a girl, one of my favorite Christmas traditions was making Christmas cut out cookies. Although she usually mixed up the dough, my mom would marshal my three sisters and me into the kitchen to cut out, bake, and decorate gingerbread and sugar cookies. My warm, happy holiday memory of cookie making is one that has persisted and a tradition that I have duplicated over the years. However, for the past couple of years I have lived in a house with a very small kitchen that was not at all conducive to cooking. Now that I have moved into a home with a spacious, newly remodeled kitchen, my joy in cooking and baking has resurged. I find it satisfying and relaxing, kitchen clean up notwithstanding.
Just as I was getting organizing things for baking cookies, a friend unexpectedly popped over. We had a makeshift dinner and then after a quick run to the store for essential ingredients for gingerbread, began mixing up cookies. Just like when I was little and my sisters and I all worked together in the kitchen, my friend measured out the dry ingredients while I creamed and mixed the rest. We each took a turn mixing the two together and when it was divided and wrapped for the refrigerator, we whipped up some buttercream frosting for decorating our spicy little figures before settling in to watch a Christmas movie while waiting for the dough to chill.
After waiting as long as possible in the face of the enticement of spicy gingerbread, we went back to the kitchen and armed with our own rolling pins and bits of dough, we started rolling and forming our Christmas gingerbread cookies. As I rolled and cut the dough, I thought about how long it had been since I had made Christmas cookies and then suddenly got caught up in the joyful rhythm of rolling, cutting, and placing cookies on my quickly filled baking sheet. Before long the cookies were out of the oven and cooling on a wire rack. In the meantime we mixed color into bowlfuls of frosting and began assembly pastry bags for decorating our gingery shapes. Anxious to begin, the first too-warm cookie caused the frosting to run. So, I slowed down and let the rest cool a little more before deciding how to decorate each one.
In spite of the fact that I ended the day just as it started–with a sink full of dishes to be washed–I have a deep sense of contentment and accomplishment. Although I have few baked cookies left to show for my efforts, I am filled with the joy of sharing a simple holiday tradition, inviting someone to share my kitchen, and devouring decorated gingerbread cookies and icy glasses of milk in wreath-decked glass holiday tumblers.