Along with  watching predictably saccharine sweet holiday movies, baking Christmas treats, and wrapping presents, driving around looking at holiday light displays is one of my favorite seasonal pastimes. Each year, I drive out in search of new neighborhoods with creative expressions of seasonal cheer. Although it would be  impressive to say my annual wanderings are researched thoroughly and plotted unfailingly, my navigational weakness means that more often than not I chance upon newfound delights by mere serendipity or the happenstance of taking a wrong turn.
This year, I stumbled across two delightful, though very distinct, displays in my wanderings. My first find featured the mature trees lining a lovely neighborhood lane. Although some of the homes were tastefully decorated, the highlight of the block for me was the light-wrapped tree trunks lining the street. Even houses that opted out of house lights had a wrapped tree near the street, creating a unified theme. The lighted trunks created a simple, but breathtaking effect, transforming the entire street with the magic of the season.
The second find was an individual house on my drive home from the grocery store. Driving along a residential street after an evening stop at a nearby store, I happened to notice lighted windows in a house and upon closer inspection noticed the windows were filled with scenes created using different kinds of holiday dolls.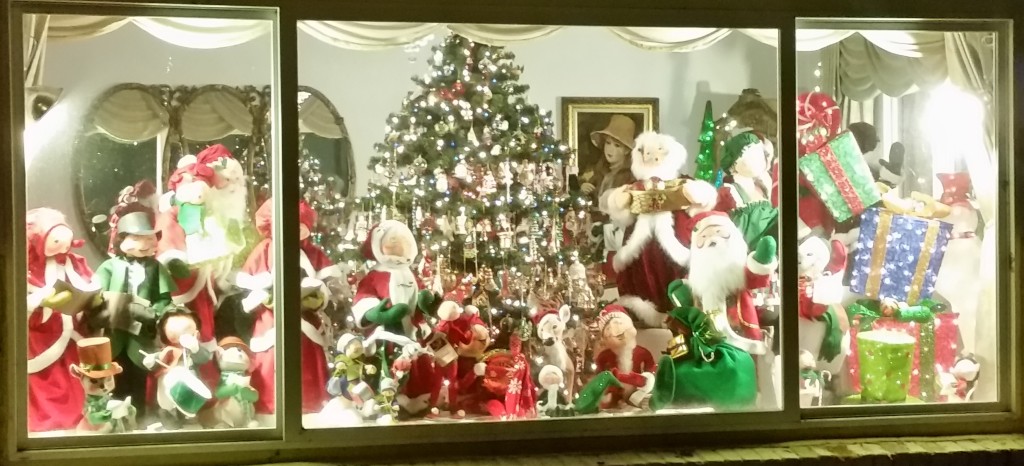 Although the photos I snapped do not do justice to the seasonal whimsy displayed in each tableau, the essence of the holiday cheer captured in these window vignettes inspired me with the childlike wonder I associate with Christmas. Each window features a different theme, but with equally delightful results. I drove away from the house feeling cheery with childlike wonder inspired by the seasonal display.
While  tinsel and colorful displays of lights do not capture the heart of the season, I found they can bring cheer and delight to the harried shopper trying to cross one more thing off of detailed wish lists. In those moments of pausing to listen and look around, I somehow find time and space to celebrate and commemorate Advent.
In these busy, task-filled days, may you find quiet moments of peace, joy and celebration.