15 Chemotherapy Skills That Will Never Go on My Résumé
When I was first diagnosed with cancer, I began learning all I could about the disease, what it meant for my life, and how I could help in the process of returning to full health. This began my accumulation of 15 chemotherapy skills that will never go on my résumé. At first, I scoured the internet, especially sites like The American Cancer Society, The Mayo Clinic, Livestrong, The National Institute of Health National Cancer Institute, and even found helpful articles on Pinterest. During meetings, appointments, and phone conversations, I began taking copious notes in a dedicated cancer notebook on what was said by the surgeon, the physician assistant, the oncology nurse who facilitates a support group, the R.N. who serves as case manager through my health insurance, the social worker at Cancer CAREpoint, billing departments, health insurance customer service representatives, my pastor, or my knowledgeable and experienced oncologist . The ability to learn and implement my new knowledge has become an important skill to returning to complete health.
Through it all, I have gained more information than I ever thought I would need about health, the human body, and cancer. This has often been gained with my own body the subject, which has forced me to develop skills for discussing delicate or personal subjects with decorum, while being perfectly candid. Sidestepping important issues can be detrimental to health–my health, and that simply isn't an option for me. My quest to return to complete health has led me into situations that have taught me other skills.
Other Chemotherapy Skills That Will Never Go on My Résumé
Being able to clamp or unclamp an IV line becomes critical if the pump malfunctions. Stopping the flow of the medication or checking to see if a line was inadvertently clamped is pretty helpful to know in case of other emergencies, too. Unfortunately, I learned by firsthand experience that pumps do malfunction. Which brings me to my next newly acquired skill.
Troubleshooting a chemotherapy pump while on the phone with a customer service representative can be a challenge. The pump is set by the nurses in the oncology practice to deliver chemotherapy at a certain rate. While the nurses have access to wide function of the pump, patients can only stop or restart the pump. That way, delivery of the chemotherapy cannot be tweaked by accidental pushing of buttons while the patient is at home sleeping or doing other everyday tasks. While I do not know about all chemo regimens, I know there is a specific rate at which my chemotherapy drugs are administered and it is unwise to mess with it. Therefore, the button blocking function is a fantastic thing.
That is until your pump starts repeatedly alarming at 9 o'clock at night and you have to call the pump company's customer service line to resolve the issue. Then, they tell you how to sidestep the button blocking function to get some relief from the sleep robbing noise of the pump. Of course, they also make sure the button blocking feature is reactivated before letting you off of the phone. As you may know from personal experience, talking technology in the wee small hours with someone who knows an infinite amount of information about the technology in question can be somewhat of an exercise in careful listening and following directions. We still couldn't solve the problem, but we tried.
Being frank with my oncologist about which chemotherapy infusion room I prefer. Infusion day is several hours long, so the atmosphere of the room can impact the level of patient comfort. As a reflective introvert, I found the larger infusion room just inside the practice door and across from the scheduling station to be noisy and lacking privacy because every single patient walks by the door on the way to an examining room. And, the discussions around the schedulers' desk are sometimes often, but almost always audible in the larger room. So, voicing my preference for the room in the back, which is smaller and literally the last door accessible in the practice, became necessary. Nobody passes the room going anywhere else in the office. People literally have to purposefully walk to that room. As a result, little outside noise filters in.
Packing a chemo bag has become a time-consuming art. Over time, my enormous bag has come to contain all manner of helpful items such as those  mentioned in my earlier post What Should Go in My Chemo Bag. Finding and packing healthful but nausea proof snacks to munch while passing four to five hours in the chemotherapy infusion room can be challenging, but oh so crucial to a good chemo day.
Weirdly Humorous Chemotherapy Skills That Will Never Go on My Résumé
Describing bodily functions with a straight face has become a regular exercise within the confines of the surgeon's or oncologist's examining rooms. No topic is taboo and no question is exempt from being answered.
Putting Emla Cream over my port site on infusion day without getting it on my clothes before covering it with Press'n Seal or numbing my fingers in the process has become one of my greatest accomplishments. One day I forgot to put on the Emla Cream at home before heading to chemo and of course that was the day the oncology nurse used the wrong length needle and had to stick my chest twice before being able to set up my infusion. I have not forgotten the cream again and I could probably guarantee that I never will. It was not fun. Not fun at all.
Who knew that exposing my mediport site in preparation for an infusion in a well-populated infusion room without modesty curtains would eventually become a matter of fact and devoid of undue mortification? There still may be a bit on occasion, but somehow I have learned it can be borne. Those of you who were breastfeeding mothers had an advantage over me, but I now consider myself quite experienced. My question to all of you experienced mothers is if the previous state of modesty ever comes back because I am finding it a bit harder to remember what the big deal was.
Wearing a chemotherapy pump as a fanny pack without feeling like I am suffering fashion suicide didn't take long at all. As a matter of fact, it only took one time knocking the pump on the floor with the IV tubing yanking on the bandage covering the inch long needle connected to the mediport site in my shoulder before I decided to go the fanny pack route. I would choose painlessness over fashion faux pas any day!
Discerning if my oncologist is being  serious or humorous. He is such a kind and knowledgeable doctor that I trust him implicitly to tell me the truth according to current medical research. We are both so serious about cancer and me getting well that honestly, I had to ask him to smile when he joked so I would know he was kidding. Now, I am perfectly clear about when he is joking–and it wasn't as often as I previously thought!
Using the restroom while the mediport is connected to medications hanging on an IV pole without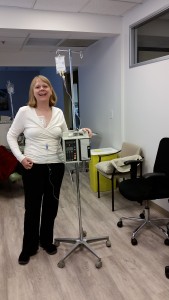 getting turned around, tangled up, or tripping on the tubes or IV pump power cable can be tricky at first. My chemotherapy is given in liquid form, so after an hour or two of liquids seeping into the body, it becomes necessary to use the necessary. Trips to the restroom as a chemo newcomer became lessons in problem solving and Houdini worthy escape acts. After awhile, I learned to dance with the pole, making sure it mostly stayed on my left side and if I had to switch sides how to do so without tangling everything up around me. The importance of keeping the lines and cables securely fastened also became clear rather quickly.
Patient to Patient Chemotherapy Skills That Will Never Go on My Résumé
Learning when to be a quiet listener and when to share what has helped me. No two people experience the same stress with a cancer diagnosis or impact of cancer on their lives. Each detour is different because each patient is unique and the disease attacking their healthy cells is unique to them. So, sometimes listening and validating the fear and frustration is just as important as later sharing that according to recent medical research, using a baking soda rinse is the most effective way of dealing with treatment related mouth sores .
Having empathy during a phone conversation with someone who is vomiting on the other end without getting sick myself.
Sharing frustrations and then moving beyond. We all have frustrations, stress, or doubts and with an ongoing health condition sometimes they can mount up. It is helpful to have friends who recognize and acknowledge those feelings without letting you send out invitations to a pity party. Just hearing someone else say they have gone through the same thing basically neutralizes the temptation to linger in those low places we can all walk into at times.
Being a friend to someone who is wrestling with metastatic disease is the skill I probably least desired to gain. I wish all of the patients I have met would successfully defeat this horrible disease. In the past, I felt so helpless and inadequate to condole with the suffering. Instead of avoiding them, I find myself drawn to their faith, hope, strength and tenacity to live. They challenge me to "live to live and not live to die" because I see them using everything within them to do exactly that: to live.
One friend in particular has challenged me by her unwavering faith in God. She has inspired and encouraged me when we know that for her, cancer will become her ultimate journey, while for me it is simply a detour. Her implicit faith in God's goodness and faithfulness carries her through the bad days, and a phone conversation with a listening friend can help a little, too. It doesn't solve our cancer woes, but somehow it resolves quite a lot of life's issues. And that makes living truly wonderful!
Chemotherapy Skills That Will Never Go on My Résumé
These 15 chemotherapy skills that will never go on my résumé , but that have become crucial in my life may never help me gain a better salary or a less stressful job. However, they have become part of who I am and how I go about life. In different ways, these skills will stick with me and help me be a better daughter, sister, aunt, friend, colleague, and who knows what else. I look forward to the journey of finding out!