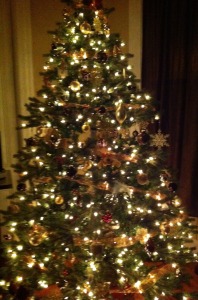 That's right! I'm decking the halls in October. My Christmas tree is decorated and the house is mostly decked with holiday ornamentation. A friend came over last weekend and we decided some Christmas cheer would really cheer us through this autumn. We put on some Christmas music and dug through storage totes looking for just the right things to brighten things up.
Some of you may be shaking your heads and saying it is too early. And, your anti-materialist sentiment might equate my premature decking of the tree with overspending and an overemphasis on material goods. However, those of you who know me will remember rightly that I am not all about material things.
The simple reality is that this time of the year gets really busy. I turn around once and it is Halloween. I turn around again and it is Thanksgiving. I turn around yet again and it is New Year's Day. Christmas is a mere memory and I have missed it.
On top of my exuberance for all things Christmas, I find that life experiences have also shaped why I feel the need to have my Christmas Tree decorated already. For a number of years I lived in Ecuador, where neither Halloween nor Thanksgiving is celebrated. So, everyone, not just stores trying to boost lagging sales, puts up Christmas décor with soaring Holiday cheer and expectation.
In that tradition, my premature Christmas tree is lighting the way to a brighter and more promising winter.